Gregory Home
Surname List
Name Index

James Alexander GREGORY

---

84. James Alex GREGORY was born on 22 Nov 1916 in Lone Wolf, Kiowa, Oklahoma. He died on 17 Feb 2003 in Eugene, Lane, Oregon. He served in the Army between 1940 and 1945 in World War II.


James Alex GREGORY and Lena Lucille FLANERY were married on 3 Jul 1946 in Yreka, Siskyou, California.
Lena Lucille FLANERY (daughter of Fred Martin FLANERY and Beulah Lee RICHISON) was born on 20 Mar 1927 in Tuttle, Oklahoma. She died on 11 Jan 1995 in Bend, Oregon. She was buried in 1995 in Newport, Lincoln, Oregon. James Alex GREGORY and Lena Lucille FLANERY had the following children:



James Gregory - Husband and a great father.
Jim moved in 1936 from Oklahoma to Arizona - he was 20 years old. He lived in Arizona for six months, working in the cotton fields, driving truck, and various other jobs. In 1937 he moved to Toledo, Oregon, where he has lived since.
He worked at the C.D. Johnson Saw Mill, which was supposedly the largest spruce mill in the world. His brothers also worked there. In 1940 he began serving his country during World War II, serving under General Patton.
He served for five years - from 1940 - 1945. During his five years of service, he participated in many famous battles, including the Battle of the Bulge. He also witnessed the aftermath of Normandy Beach. During his time with the army, he traveled to many countries and continents, including Ireland, England, Scotland, France, Belgium, Luxinburg, Holland, Germany, Austria, Paris, London and finally, as a vacation stop on his way back home after the war, back to Austria.
Jim returned to Toledo, where he met his wife, Lucille. He continued to work at the mill until 1979, when he was able to retire after 42 years in this job.

by Lucille & Katrina Gregory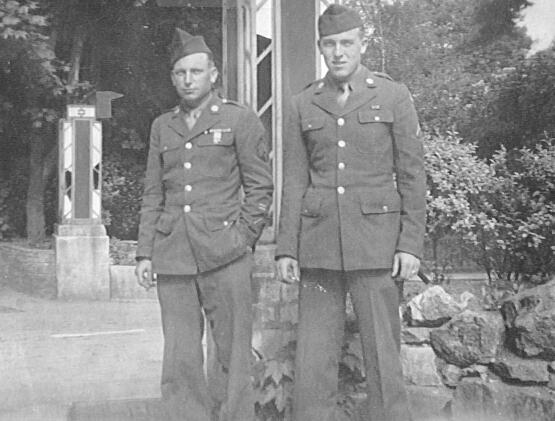 James on the left, Gaylord Gregory on the right. Picture taken during World War II in England.

James Gregory 9 months old